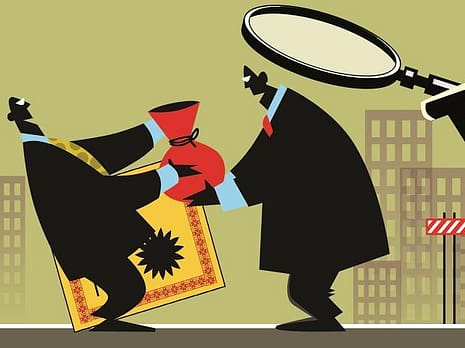 Background:-
What are Foreign Borrowings?
Foreign borrowing is money borrowed by a government, corporation or private household from another country's government or private lenders. Foreign debt also includes obligations to international organizations such as the World Bank, Asian Development Bank (ADB), and the International Monetary Fund (IMF).
Why does India need foreign capital?
India needs external capital to grow. This has been true since the early years of Central planning following independence when India relied on external debt raised mostly by its Central and State governments from foreign governments and multilateral agencies (like the World Bank). Until the liberalization of the economy in 1991, only a few Indian companies were able to do so.
Linkage:-
Now Let's talk About Steps taken by the Government till now to make foreign borrowings easier in the past: –
While presenting Union Budget 2019, FM Nirmala Sitharaman spoke about the easing of ECB norms to make capital available to domestic companies at a time when the economy struggles with liquidity.
RBI has widened the eligibility for ECBs to include all entities that can receive foreign direct investment. The list of eligible borrowers was expanded. RBI permitted ECBs with minimum average maturity of 10 years from recognised lenders other than overseas branches or subsidiaries of Indian banks for working capital and general corporate purposes.
RBI also allowed Non-banking financial companies (NBFCs) to use this route to raise external funds for on-lending for these purposes, which also contributed to the growth in overseas borrowing.
Furthermore, the ECB proceeds can also be harnessed for the repayment of rupee loans availed domestically with a MAMP of 7 years.
Every entity eligible to receive foreign direct investment can borrow under the ECB framework.
Current Scenario:-
While India has been recording an increasing amount of capital flow since the economic reforms introduced during the 1990s, During the march 2021, Indian firms were able to raised 9.23 billion from the foreign market of the total borrowings during March 2021, USD 5.35 billion came in through the approval route of the external commercial borrowings (ECB), while the rest of USD 3.88 billion was raked in via the automatic route of raising funds from international markets. No money was raised through the rupee-denominated bonds (RDB) or the masala bonds.
The three players that raised money in the approval route category are as follows: –
Impact:-
With favorable overseas conditions such as low interest rates and liquidity, With RBI's check on the ECB, making industry specific distinctions for automatic route and approval route, clearly establishing the end-use restriction and minimum average maturity period etc.
With the revised guidelines, there has been a major liberalization in eligible borrower and lender group. Services sector has been greatly benefited as they can avail short-term ECBs. Entities in the trading sectors and limited liability partnerships ("LLPs"), can also avail ECBs.
Among the sectors, financial services, which includes non-banking financial companies (NBFCs), housing finance companies (HFCs) and micro finance institutions (NBFC-MFIs), continues to be a major borrower this financial year. The sector, which has been hit by the liquidity crisis, accounted for 47 per cent of the total borrowings. This leads to development of nation as a whole and will increase the standard of living of the people.
All the measures stated above will kick start the growth cycle back. Investments being the key matrix for job creation have always been the priority for governments world over. If one has to imagine a world where there is demand without employment he can presumably assume its a cloudland.
Concepts Simplified: –
What are External Commercial Borrowings: –
External commercial borrowing are loans in India made by non-resident lenders in foreign currency to Indian borrowers.
The ECBs can be obtained through automatic route or approval route or by combination of both the routes.
The important aspect of ECB policy is to provide flexibility in borrowings by Indian Corporate, at the same time maintaining prudent limits for total external borrowings.
Advantages of ECBs:-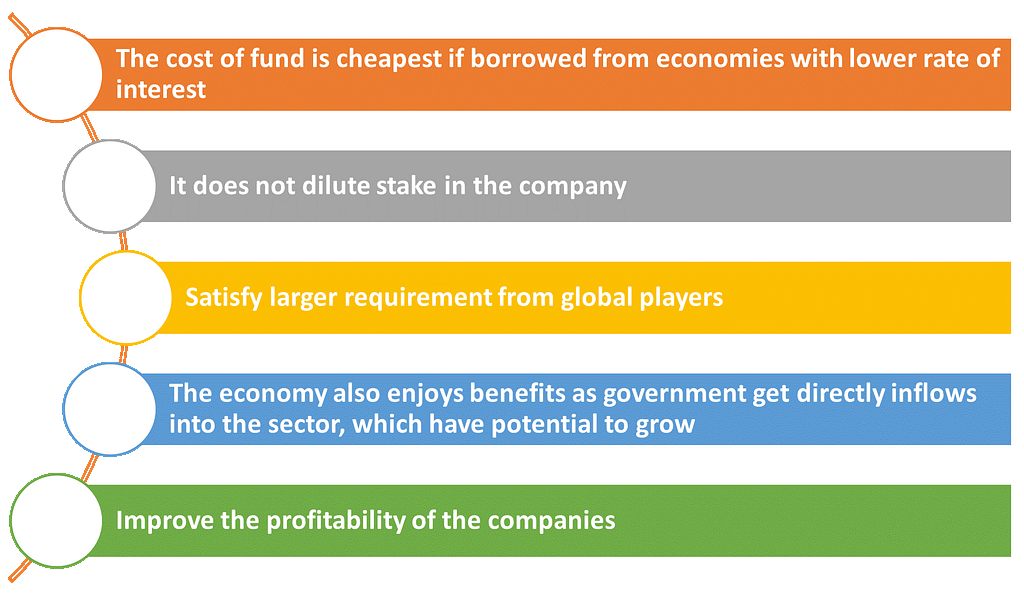 Content Contribution By: – Viraj Shetty
6,430 total views