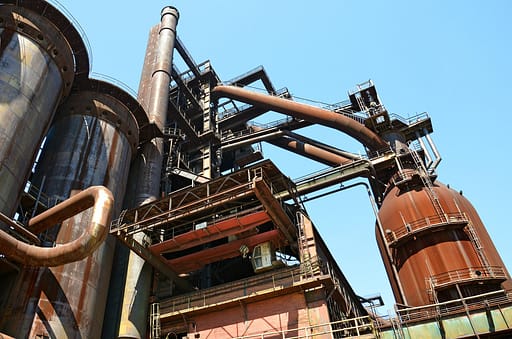 Background:-
Iron ore is the primary source of iron for the world's iron and steel industries. And those industries are important to the economies of the world.
Iron ore prices have risen to record highs in recent months, largely because supply has not been able to keep pace with demand in China, where crude steel production has grown by 30% over the past five years.
Iron ore prices were restricted at moderate levels before this, failing to enjoy the benefits of rising steel prices. China's iron ore import volumes were slightly lower in 2018 than they were in 2017 but were more than adequate at a time when the country was removing steelmaking capacity as part of its supply-side reform agenda.
After a pause, prices of steel and iron ore are on the rise. Steel companies have increased prices by up to Rs 5,000 a tonne in the beginning of April while state-owned iron ore producer, NMDC has hiked prices of lump ore by Rs 500 a tonne.
The last time the price of steel increased was in January when it touched an all-time high.
NMDC had kept prices unchanged from February to beginning March. But effective March 21, prices of lump ore and fines were revised upwards. Analysts expect, prices to remain strong in the months ahead on the back of domestic demand and cues from China.
Why are Prices of Iron Ore Increasing?
Iron ore prices have reached an all-time high, with China's domestic steel product prices also soaring to record highs.
Although the summer off-season is ahead, the uptrend in steel prices is likely to continue if relationship troubles between China and Australia linger and if China's plans to cut steel production materialize.
Steel prices rose sharply due to soaring iron ore prices and the Chinese government's plans to reduce steel production capacity. China's National Development and Reform Commission and the Ministry of Industry and Information Technology ordered a reduction in production capacity in areas with severe air pollution.
NMDC: National Minerals Development Corporation
Linkages:-

To understand the linkages, it's extremely important for one to understand which the countries are producing the maximum amount of steel in the entire world: –
| | | |
| --- | --- | --- |
| Rank | Country | 2020 (In Million Tonnes) |
| 1 | China | 1053 |
| 2 | India | 99.6 |
| 3 | Japan | 83.2 |
| 4 | Russia | 73.4 |
| 5 | United States | 72.7 |
| 6 | South Korea | 67.1 |
| 7 | Turkey | 35.8 |
| 8 | Germany | 35.7 |
| 9 | Brazil | 31.0 |
| 10 | Iran (e) | 29.0 |
Now let's understand where the steel produces goes: –

China was the biggest buyer of Indian steel in the first six months of the current financial year, accounting for 29% of Indian steel exports during the period.

The spurt in bilateral trade activity comes even as the armies of the two countries have been engaged in a face-off at the border in Ladakh since July.

China bought 1.9 million tonnes of India's 6.5 million tonnes steel exports during April-September 2020, the highest in at least six years.

India's steel exports during the period were mostly of hot-rolled coils, a flat steel product used to make pipes, automobile parts, and engineering and military equipment.

The rise in steel exports to the world's second-largest economy comes even as the Indian government has imposed curbs on imports from its neighbour. This includes imports of steel from China, the world's largest producer and consumer of the alloy.

India's own steel consumption fell to its lowest in at least six years during April-September at 35.86 million tonnes, while finished steel production fell by a fourth to 38.6 million tonnes. The fall in the two numbers is due to the lockdown imposed by the government on 22 March 2020 to contain the spread of the coronavirus.

The surge in China's steel imports from India reflects the rapid recovery in the world's most populous country after being the first to be hit by the virus. The Chinese economy expanded 3.2% in the June quarter from a year ago, according to a 19 October Bloomberg report. This was the strongest growth among the world's major economies.

After knowing that china has been the major importer for Indian steel let us know analyse what does china do of the steel when it's the largest producer itself?

Uses it for Manufacturing: – China is a manufacturing hub for a lot of products and steel being the major component for many industrial appliances remains a key for the Chinese production cycle to be alive.

Using for Increasing prices: – Two industry sources said major Indian steelmakers offered a discount of at least $50 a tonne, selling hot-rolled coils and billets to China at $430-$450 per tonne against the $500 offered by most Chinese producers. Making it cheap for china to buy from India due to the pandemic and sell it at a higher price when things normalize.

Now one also has to understand why the prices have started moving up suddenly, china which was never an importer of Indian steel had started to demand Indian steel in 2020 and now is sitting on sufficient quantities of steel and can now control the price of its steel which has led to this sudden spike in the steel prices.
What is India Doing Current with regards to Steel Reforms: –
The Government of India has signed an agreement with the Government of Karnataka and the Ministry of Steel to extend Donimalai Iron ore lease. NMDC has been operating the mine, but operations were suspended since November 2018.
The mine is extended for 20 years with effect from November 2018. Exercising the power conferred to GOI under section 31 of the MMDR Act, 1957, the Government of India reached at an agreement with Government of Karnataka and Ministry of Steel to extend Donimalai Iron ore lease, said NMDC.
Also The Ministry of Railways has approved a new iron-ore policy governing the allocation of rakes and transportation of iron-ore.
This new policy has been named as Iron-ore Policy 2021 and shall come into effect from February 10, 2021.
As per the new policy, higher priority will be given to the movement of iron-ore traffic for domestic manufacturing activity. Within the domestic movement of iron-ore.
Current Situation:-
In India, currently NMDC lump ore prices are ruling around ₹6,970 per tonne from around ₹2,250 per tonne in May 2020. In the last 11 years, this is the highest we are seeing. Odisha iron-ore prices would also be similar or even higher by a bit
Despite the recent uptick in domestic iron ore prices, it is still at significant discount to the landed price of imports.
Over the past month, both global players and NMDC have raised the price of iron ore by 17-18%.
It is also being said that there could be further hikes from NMDC in the coming days.
There will be a deficit of 18 million tonnes during the first three quarters of 2021 amid improved global steel demand and a slight miss in top miners' shipments. The bank had previously predicted a 1 million tonne surplus.
The rise in iron ore prices is also likely to keep steel prices elevated in the short term.
The main reason behind the iron ore price rise is attributed to the supply Constraints.
Both iron ore producing states odisha and chattisgarh have not ramped up supply. Of the 30 new mine holders, 11 are still non-operational. Globally top iron ore producing countries have been hit.
Impact:-
Increasing prices of steel will lead to an increase in price of a lot of products as steel is a raw material for products. Increase in the prices will spur inflation into the economy. Though as increasing price of steel will lead to an increase in the GDP of India as India is the second largest producer of steel in the world.
Global GDP growth correlates well with steel consumption and is primarily driven by emerging economies. Urbanisation was and still is a key driver for construction in China, to provide housing and related infrastructure for transportation and services. Scrap steel recycling, currently at 17%, affect the demand for new steel and indirectly on iron ore.
This surge in prices was largely impacted on a healthy demand from China amidst supply disruptions at iron ore mines. Despite Covid, global iron ore prices have remained elevated on the back of a sharper than anticipated revival of demand in China along with Covid induced supply disruptions in Brazil and South Africa mines.
The rise in steel prices can impact in infrastructure project cost rising.
Content Contributed by Vaishnavi Dahivalikar
6,454 total views