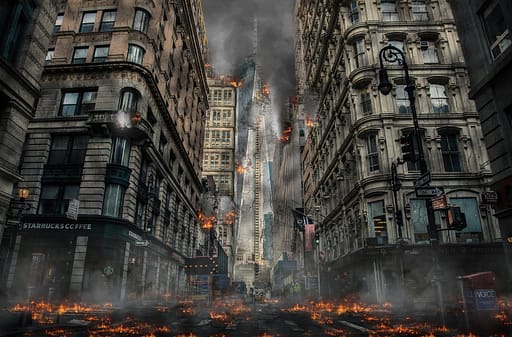 Background:-
What is Hamas?
Hamas is a militant group that controls the strip and is considered a terrorist organization by Israel and the United States. Israel and Hamas have fought three wars since the militant group seized control of the Gaza Strip in 2007
Hamas which rules the Gaza Strip fired rockets into Israel because of the clashes between the police and Palestinians at the Al-Aqsa Mosque in Jerusalem
Hamas has launched more than 600 rockets toward Israel since Monday evening, including six at Jerusalem in a first such instance since 2014, according to Israel's military. Israel's military said its Iron Dome system intercepted 200 of the Hamas rockets, while 150 of them exploded inside Gaza.
Hamas and the smaller Islamic Jihad militant group claimed responsibility for the rocket fire on Jerusalem.
What Happened: –
Shortly before midnight local time, Israel's military said Palestinian militants had fired around 150 rockets into Israel, of which dozens were intercepted by its missile defence systems. In response to the rockets, the IDF bombed 130 targets in Gaza, including a Hamas commander's home.
Over 300 Palestinians and 21 police officers were injured in clashes. The 13-story residential building in Gaza, containing 80 apartments, was struck Tuesday evening. Reuters reported that it was hit by an Israeli airstrike, and the Israeli military confirmed Tuesday that it struck a multi-storey building in Gaza's Rimal neighbourhood that it said was being used by Hamas.
The upsurge in violence came as Israel celebrated "Jerusalem Day", marking its capture of East Jerusalem in the 1967 Arab-Israeli war.
Linkages:-
Why is Hamas firing rockets?
Hamas fires rockets at Israeli cities. It framed its rockets as an immediate response to a pair of Israeli police raids on the Aqsa Mosque compound, a spiritual site in East Jerusalem sacred to both Muslims and Jews.
Hundreds of residents in Arab communities across Israel staged overnight protests recent actions of Israeli security forces against Palestinians.
What are Both sides Saying?
Arab-Israeli conflict has led to rocket attacks from Palestinian militants from the Gaza Strip, they are targeting civilians, Netanyahu said Hamas crossed a "red line" with the rocket attacks. It is believed to be the primary time the group fired rockets toward Jerusalem since a 2014 war.
In the Past They wanted unfettered access to Gaza, Hamas justified all the attacks in the past as counterattack to Israeli blockaded Gaza.
On the evening during 23-24 April 2021, 36 rockets were fired towards Israel from Gaza, six of which were intercepted by the Israel Defence Forces Iron Dome system. The Israeli military responded with military strikes in Gaza.
On 10 May 2021 Hamas took credit for firing 7 rockets at Jerusalem and Beit Shemesh from Gaza, in what Hamas said was a response to injuries of over 300 Arabs in clashes with Israeli police outside al Aqsa mosque.
In past attacks by Hamas, co-founder of Hamas Mahmoud Zahar has said the attack is to force mass migration in Israel and to disrupt the daily life of its citizens. They want to convince the Israeli's that their occupation is costing them too much.
This latest episode has happened because of tension in Jerusalem, the sharpest part of the conflict. The holy sites within the old city are national also religious symbols. Crises affecting them have often ignited violence.
The triggers for what went on this point include heavy-handed Israeli policing of Palestinians during Ramadan and controversial efforts within the Israeli courts to evict Palestinians from their homes.
Tensions escalated Friday and Monday as Israeli police used stun grenades and rubber-coated bullets on Palestinians at the Al-Aqsa Mosque compound which is the third holiest site of Islam and the holiest site of Judaism.
Israeli officials said this was in response to Palestinians throwing stones toward the Western Wall, where thousands of Jews had gathered to pray. Netanyahu's spokesman Ofir Gendelman tweeted that "extremist Palestinians planned well in advance to carry out riots." But a spokesperson for the mosque said the clashes began when police tried to evacuate the compound, where many Palestinian worshippers sleep during Ramadan, to permit Israelis in.
What has caused the violence?
The fighting between Israel and Hamas was triggered by days of escalating clashes between Palestinians and Israeli police at a holy hilltop compound in East Jerusalem.
Hamas demanded Israeli remove police from there and the nearby predominantly Arab district of sheikh jarrah where Palestinian families face eviction by Jewish settlers.
Monday was especially tense because it was Jerusalem Day, an annual Israeli holiday marking Israel's capture of East Jerusalem that is always contentious.
Palestinians and the Israeli police have recently clashed in connection with demonstrations that began as a response to a looming Israeli court decision on whether to evict Palestinians in the East Jerusalem neighborhood of Sheikh Jarrah from their homes. Hundreds of Palestinians are injured in clashes with the Israeli police since last week.
Current Scenario:-
Abu Ubaida a spokesman for Hamas's armed wing, said it had launched "a rocket strike against the enemy in the occupied Jerusalem in response to their crimes and aggression against the holy city and aggression against our people in Sheikh Jarrah and Al-Aqsa mosque."
Israel carried out hundreds of air strikes in Gaza on Wednesday and Palestinian militants fired multiple rocket barrages at Tel Aviv and the southern city of Beersheba.
Israeli officials said the military has also targeted senior officials from Hamas and another militant group, Islamic Jihad, killing 20 Hamas operatives, including an antitank commander, as well as two Islamic Jihad leaders.
Meanwhile, Israeli Defense Minister Benny Gantz ordered the mobilization of 5,000 Israeli reserve troops to expand operations and enhance Israel's defense efforts, according to a Defense Ministry spokeswoman.
The fundamental reason for the renewed violence does not change. It is the open wound of the unresolved conflict between Jews and Arabs that has blighted and ended Palestinian and Israeli lives for generations.
Hamas, a militant group launched 480 rockets into Israel from the Gaza Strip, including targeting Jerusalem, according to the Israeli Defense Forces.
In response to the rockets, the IDF bombed 130 targets in Gaza, including a Hamas commander's home. It released photos of fighter jets laden with missiles.
Military officials said Israel has struck scores of Hamas targets, including weapons-manufacturing sites, military facilities and tunnels on the border that Israel says Hamas uses to launch attacks. Lt. Col. Jonathan Conricus, an Israeli military spokesman, disclosed some details of what he called several complex and large operations targeting the militant group in Gaza.
Col. Conricus said 80 Israeli military aircraft simultaneously bombed 150 rocket-launching sites on Monday evening, a maneuver that he said likely caused some civilian casualties. Israel has also trapped a number of Hamas special-forces operatives in a tunnel between Gaza and Israel that the military said Hamas planned to use to launch an attack, he said. Col. Conricus wouldn't say how many operatives were there or where the tunnel was exactly.
Hamas issued an ultimatum to Israel to remove its forces from Sheikh Jarrah and Al Aqsa by 6 p.m. local time on Monday, a condition Hamas knew Israel wouldn't meet, and the barrage of rockets into Jerusalem came as the deadline passed.
Fighting between Israel and Hamas intensified on Tuesday, with the Palestinian militant group launching hundreds of rockets from Gaza and Israel responding with airstrikes that have now killed more than 25 people, as the two sides prepared for a wider conflict.
"We're in the midst of a big operation," Israeli Prime Minister Benjamin Netanyahu said in a statement Tuesday. "We decided that Hamas and Islamic Jihad will pay a heavy price for their aggressive acts; their blood is in their heads. This operation will take time."
India's Stand On Israel-Palestine Issue:
India recognised Israel in 1950 but it is also the first non-Arab country to recognise Palestine Liberation Organisation (PLO) as the sole representative of the Palestinian.
India is also one of the first countries to recognise the statehood of Palestine in 1988.
In 2014, India favored UNHRC's resolution to probe Israel's human rights violations in Gaza. Despite supporting the probe, India abstained from voting against Israel in UNHRC in 2015.
As a part of Link West Policy, India has de-hyphenated its relationship with Israel and Palestine in 2018 to treat both the countries mutually independent and exclusive.
In June 2019, India voted in favor of a decision introduced by Israel in the UN Economic and Social Council (ECOSOC) that objected to granting consultative status to a Palestinian non-governmental organization.
So far India has tried to maintain the image of its historical moral supporter for Palestinian self-determination, and at the same time to engage in the military, economic, and other strategic relations with Israel.
Impact:-
This Impacted the celebration of Ramadan as After learning of the deaths in Gaza, President Abbas decided to cancel celebrations of the upcoming Eid El-Fitr that marks the end of Ramadan
The attack has led to Israel take serious action this time ie. Israel would "increase both the intensity of the attacks and the rate of attacks," Prime Minister Benjamin Netanyahu said.
This Continuous terrorism is affecting the FOREIGN TOURISM in a pure negative way rather attracting visitors its getting complete opposite as many are migrating
This attacks of the rocket to one another has led to many innocent civilians death
The rocket attack has affected Israel and will have lead Israel to improve the Defence for the future
Many Big nations when attacked never take actions hastily instead try to understand the problem as to resolve the conflict with no bloodshed as they maintain a difference between a nation and a terrorist group so this decision to attacking them can backfire
Destruction of Properties, Heavy Damage
In the fight between authorities the innocent civilians are bearing the pain, suffering, fear etc.
Due to the aerial attacks, the flight has been cancelled or postponed
With no side backing up from attacking it's leading towards a war.
Content Contributed by Abhijeet Dhakane
6,338 total views