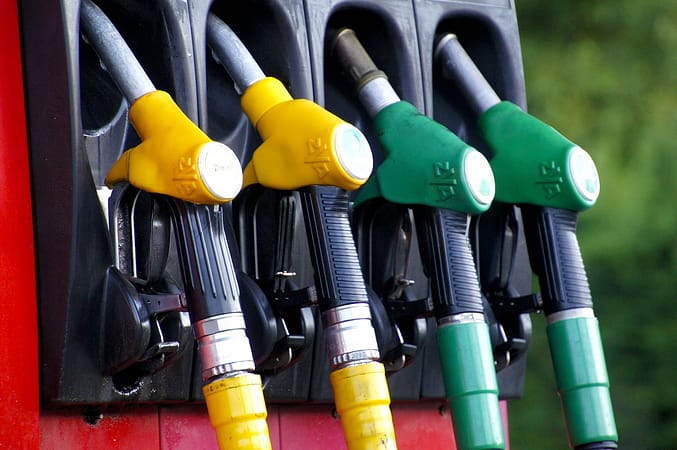 Background:-
The 2008 financial crisis had led to a global recession which resulted in an unprecedented fall in oil prices by over $100, from its all-time highs in $140s before resuming an uptrend due to economic recovery.
In the beginning of the fiscal year 2021, the price rise is staggering – Rs 22.29 a litre for petrol and Rs 23.41 a litre for diesel.
Meanwhile, the price of premium petrol has hit the Rs 100 mark a litre in Mumbai, with the regular petrol just Rs 2.43 cheaper than that mark.
The OMCs have kept the prices of petrol and diesel unchanged with effect from 1st April 2020, as a result Across the country as well the petrol and diesel price remained unchanged for quite a while.
Prior to holding back auto fuel prices, its pump rates had also remained stagnant. The pump prices of petrol and diesel remained at Rs 90.40 a litre and Rs 80.73 a litre respectively.
The price of the two auto fuels had fallen by 16 paisa and 14 paisa per litre respectively in April 2020 mid after a 15 day break when OMCs kept its prices static. Thereafter revision of fuel prices have been halted.
Linkages:-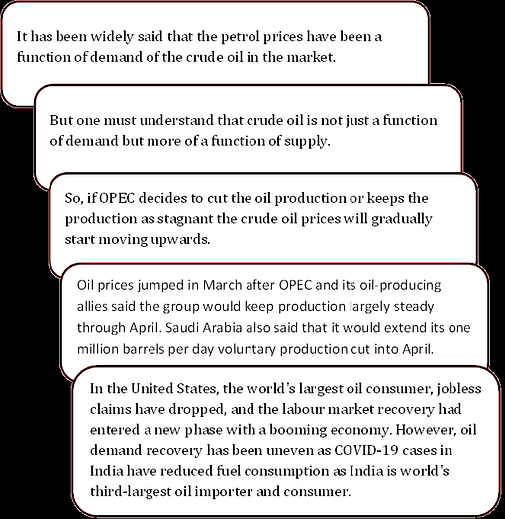 Current situation:-
In the beginning of February 2021 crude had gained more than $7 per barrel that pushed OMCs to increase fuel prices on 14 occasions raising the prices by Rs 4.22 per litre for petrol and by Rs 4.34 a litre for diesel in Delhi.
Crude is now sitting at around $69 a barrel.
Crude oil prices rose by Rs 42 to Rs 4,868 per barrel as participants widened their positions on a firm spot demand. Analysts said raising the chances by participants kept the crude oil prices higher in the futures trade.
The month of April 2021 opened with the petrol price standing at Rs.96.96 per litre. When compared to the closing price of the previous month, there were no changes in the price of the fuel. State-run oil marketing companies have not increased fuel prices since March, reportedly due to upcoming assembly elections, petrol and diesel rates are already extremely high across the country.
It may be noted that the high rate of central and state taxes on petrol and diesel has already resulted in a sharp hike in inflation.
The government needs to find a speedy solution to the fuel price crisis to shield the economy from inflation.
Impact:-
To understand the impact of an increasing crude price on the economy we need to evaluate the following points: –
If price levels remain elevated, another round of high inflation could be triggered. It will directly impact the country's recovery momentum.
In such a scenario, India's economy is expected to witness a delay in recovery as it will directly impact the consumption levels among citizens.
This will also impact those with a business that has dealings in foreign currency.
The rise in the prices of petrol comes with rise in international prices as well as the fluctuations in the exchange rate of currencies for trading oil.
Also, the demand will decrease in the market for petrol and diesel. higher fuel prices have also had an impact on other commodities including food items.
Consumers are paying more for several other commodities due to higher petrol and diesel prices. Fuel prices are also having an unfavorable impact on various other sectors, especially the smaller businesses.
A higher crude price will also bring an imbalance on the fiscal deficit of the country as an increasing price would lead to the exports becoming costlier.
Content contributed by – Vaishnavi Dahivalikar
6,461 total views