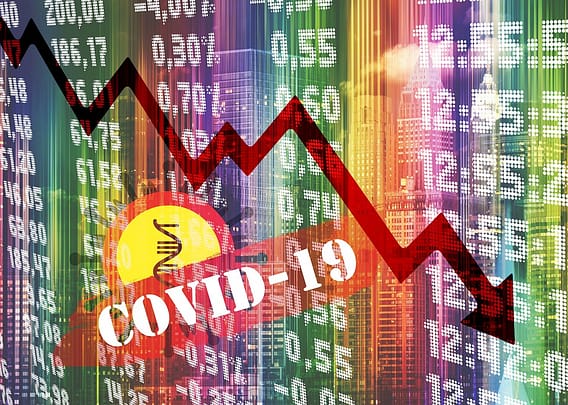 Background:-
Considered the backbone of the economy, the SME sectors have been hit hardest in the COVID19 pandemic.
Last year, when COVID-19 was in its nascent stage and a nationwide lockdown was announced, the Central Government splendidly announced a slew of economic measures for the SMEs of which only a few were of any worth to the sector, if we see in the hindsight.
The second lockdown has pushed small businesses to the brink as they are unable to fulfil formal banking requirements. For some, the choice is stark shutter businesses or bear deeper losses. Even SME sectors struggle with the second Covid wave, the banking sector is offering inadequate support to the SMEs.
This time around, when the virus is threatening to wipe out large masses or render ineffective huge tracts of our economic landscape, there is not a sign or semblance of a financial assistance package, required in great urgency, and in the hands of the people and industry, particularly the SMEs.
Thousands and thousands of small and medium shops closed due to the pandemic. The mid-size businesses downed their shutters and those who with an image of a bustling entity are struggling to live up to that.
Linkages: –
The government had launched an emergency credit line guarantee scheme (ECLGS) in 2020, to provide funding up to Rs 3 lakh crore in the form of fully guaranteed emergency credit line for SMEs.
This scheme was even expanded to cover 26 distressed sectors and extended to June 30, 2021 but still a large amount of SMES about 45 lakhs+ have not been able to take advantage of this scheme, especially the small businesses.
The way some state governments rolled out restrictions also created hurdles for smaller businesses.
To provide immediate relief to the SMEs sector, various announcements (in addition to the various MSME schemes) have been made under the Atmanirbahar Bharat Package.
The most important ones included: –
INR 3 lakh crore collateral-free automatic loans for MSMEs to buy raw material, meet operational liabilities and restart businesses.
Revision of MSME definition to extend maximum benefits to the Sector.
Disallowing global tenders in procurements up to INR 200 cr to create attractive opportunities for domestic players.
Clearing of MSME dues by the Government and Public Sector Units (PSUs) within 45 days.
These schemes were launched to improve liquidity positions of the MSMEs so that the businesses could resume back to normal.
Current situation:-
The announcement of credit extension did bring a sense of temporary relief to the MSME sector, and in turn, helped ease of access to liquidity.
This move was made with the aim of supporting MSMEs who were under severe financial strain due to the pandemic.
However, with the second wave of Covid hitting the country, small business owners and financial institutes are again bound to face difficult times ahead. The government is also making efforts towards supporting the sector during this challenging phase.
The recent announcement by the RBI on introducing the restructuring of MSME loans is one such initiative by the Government which gives hope to lenders as well as many small business owners impacted by the ongoing pandemic.
To survive the changed landscape and uncertainty brought by virus protocols, many small businesses are innovating or adapting their business models to cope. For example Wagle Sports, now allows customers across Mumbai to shop for its products over WhatsApp without leaving home; a totally contact-free buying experience.
More than a third of small and medium enterprises surveyed in June by the All-India Manufacturers' Organisation said their businesses were beyond rescuing.
The Crisil report highlighted that the margins of small businesses will also contract by 200-300 basis points, especially for the micro-segment, which accounts for 32% of the overall MSME debt.
Impact:-
Coronavirus pandemic affects the economy in various ways, especially SMEs, on both the supply and demand side.
On the supply side, companies experience a reduction in the supply of labor, as workers are unwell or need to look after children or other dependents who might have fallen ill due to the pandemic. Supply chains are interrupted leading to shortages of parts or intermediate goods that might be required for production.
On the demand side, a dramatic and sudden loss of demand from the middle- and lower-class segment which accounts to 90% of India's population. People usually start to save more during uncertain times due to fear of losing their job or fearing a future loss in revenue stream.
As the demand starts to dry down revenue for SMEs severely affects their ability to function, and/or causes severe liquidity shortages. Furthermore, consumers experience loss of income, fear of contagion and heightened uncertainty, which in turn reduces spending and consumption. These effects are compounded because workers are laid off and firms are not able to pay salaries.
On the other hand, sectors such as tourism and transportation, were also affected due to lockdowns, which have also contributed to reduced business and consumer confidence.
As the demand starts to contract and starts affecting the production it leads to growth cycle to come to a halt, and the GDP starts to dripple downwards. More importantly the business confidence starts to collapse which makes it more difficult for sentiments to revive back to normalcy specially for the SMEs.
Concepts Simplified: –
SME:-
SME stands for Small and Medium Enterprises. The SME definition in India as per Section 7 of Micro, Small & Medium Enterprises Development Act, 2006 is based on the investment amount as per the sectors these cater to the two types of SMEs – manufacturing and services are classified as:-
| | | |
| --- | --- | --- |
| Classification of Companies | Turnover Threshold | Investment Threshold |
| Small Enterprise | 1 crore-10 crore | 5 crore – 50 crore |
| Medium enterprise | 10 crore – 20 crore | 50 crore – 100 crore |
Small and mid-size enterprises (SMEs) play an important role in the economy, employing vast numbers of people and helping to shape innovation.
Content contributed by – Vaishnavi Dahivalikar
6,422 total views