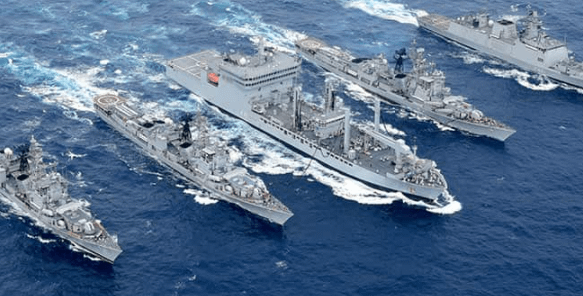 Bасkgrоund:-
China claims most of the South China Sea's waters, which are disputed by many other nations, including the Philippines, Vietnam, Malaysia, and Indonesia, under a so-called "Nine Dash Line" on its maps.
Beijing claims sovereignty over practically the entire 1.3 million square mile South China Sea. China has been constructing military bases on man made islands claimed by Brunei, Malaysia, the Philippines, Taiwan, and Vietnam in the region.
Tensions between China and the United States over Taiwan and the South China Sea, as well as rising disagreements on the origins of the coronavirus, Tibet, Xinjiang, and Hong Kong, have remained high since Joe Biden was elected President of the United States in January.
Linkаges:- 
According to the Global Times, Chinese analysts see the implementation of such marine regulations as a sign of increased efforts to protect China's national security at sea by enforcing rigorous standards to improve maritime identifying capabilities.
China considers the US invasion into the region to be of an assertive nature, with the potential to be the region's worst destroyer of peace and stability.
Such marine restrictions are seen as an indication of increased measures to protect China's national security at sea by enforcing rigorous requirements to improve maritime identifying capabilities.
Many unmanned espionage devices discovered by Chinese fishermen along China's coastline hence to protect the people the Government has decided to revamp the existing Marine rules.
Сurrent  Sсenаriо:-
China recently announced new maritime laws that will take effect on September 1, 2021, and require vessels to register their information when passing into what it considers to be its "Territorial Waters."
Operators of submersibles, nuclear vessels, ships carrying radioactive materials, and ships carrying bulk oil, chemicals, liquefied gas, and other toxic and harmful substances are required to report detailed information about their visits to Chinese territorial waters, according to a directive issued by China's maritime safety authorities over the weekend.
In addition to these types of vessels, vessels that may endanger the maritime traffic safety of China prescribed by laws should also follow the new regulation which will take effect from September 1, the state-run Global Times quoted the notice from Maritime Safety Administration.
These ships must declare their name, call sign, current position, next port of call, and expected arrival time. The report must also include the identity of any shipborne dangerous products and the cargo deadweight, according to the report.
Imрасt:-
Impact on Navigation and Trade on India:
Indian commercial vessels and Indian Navy ships go through the South China Maritime on a regular basis, passing through major international sea routes.
India places a high value on regional peace and stability. India engages in a variety of operations with the South China Sea Littoral States, including oil and gas cooperation.
Over $5 trillion in trade goes across the South China Sea, with the Malacca Straits accounting for 55 percent of India's trade.
What does this mean to China?
If China strictly enforces the new restrictions in the disputed South China Sea and the Taiwan straits, where the US and its allies have been conducting naval expeditions, testing Beijing's claims to maintain freedom of navigation, tensions are certain to rise.
China will almost certainly exploit the new law to conduct grey zone operations below the threshold of armed conflict in order to scare its neighbours and weaken the rule of law at sea in the Indo-Pacific area.
China can further strengthen its incremental dominance in the South China Sea, East China Sea, and Yellow Sea by utilizing white hulls to engage in hostile activities to promote its expansionist ambitions inside the First Island Chain while avoiding a kinetic response from its weaker enemies.
Curated by- Meghna. Manoj
6,619 total views