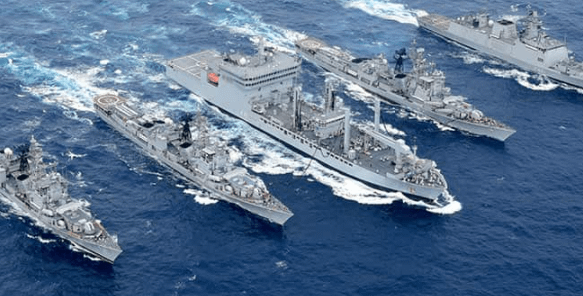 Bасkgrоund:-
In the disputed South China Sea, India conducted a naval exercise with the Philippines on August 23, 2021.
China's military expansionism in the South China Sea region has been growing rapidly in recent years.
The Philippines government refers to the eastern regions of the South China Sea as the West Philippine Sea. China, on the other hand, claims sovereignty over the whole South China Sea, which is a significant source of hydrocarbons.
Linkаges:- 
As part of its deployment, India is conducting a series of drills with littoral countries that share maritime borders with China.
In the face of China's expanding military power in the Indo-Pacific, the Quad countries – India, the United States, Australia, and Japan – will undertake the next edition of the Malabar naval exercise off the coast of Guam.
The coastlines of South China, the Indochinese Peninsula, Taiwan, the Philippines, and Borneo, eastern Sumatra, and the Bangka Belitung Islands form the western Pacific Ocean's marginal sea.
It's a hugely important economic and geostrategic region. The region is home to one-third of the world's maritime traffic. Huge oil and natural gas reserves are thought to exist beneath the seafloor.
Сurrent  Sсenаriо:-
The exercise was conducted as an effort to strengthen India's presence in the region amid escalating rivalry with China.
The Philippine frigate BRP Antonio Luna was accompanied by the guided missile destroyer INS Ranvijay and the guided missile corvette INS Kora for the exercise.
The exercises featured multiple operational manoeuvres, and both navies' ships were pleased with the interoperability consolidation gained through this operational interaction at sea.
In order to boost maritime security engagement with partner nations, Indian naval ships are now deployed to the Western Pacific.
Imрасt:-
It will strengthen bilateral maritime cooperation in order to achieve a common goal of ensuring a stable, peaceful, and prosperous Indo-Pacific.
For the Indian Navy it would be a great opportunity to consolidate its bilateral relations with the Philippine Navy.
India is bolstering its naval presence in the waterways, which are critical for international trade.
China has also intensified its countermeasures and started a series of naval exercises ahead of the Quad's own drills off Guam.
Curated by : Meghna. Manoj
6,791 total views