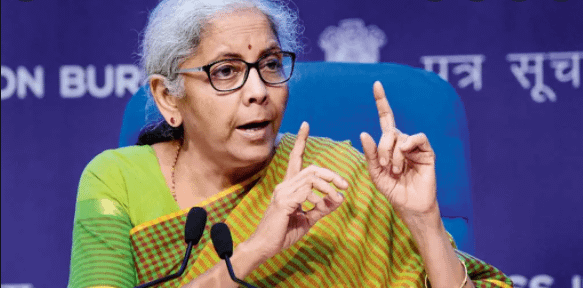 Bасkgrоund:-
The Central Government launched a "Scheme for Special Assistance to States for Capital Expenditure" as part of 'Aatma Nirbhar Bharat' package in September 2020 to boost capital expenditure by state governments reeling under the financial impact of COVID-19 pandemic.
The pipeline has been developed by NITI Aayog, in consultation with infrastructure line ministries, based on the mandate for 'Asset Monetization' under Union Budget 2021-22.
Union Budget 2021-22 further announced that the Centre would take measures to incentivize States to spend more on infrastructure and to incentivize disinvestment of their public sector enterprises.
The budget provided for establishing a professionally managed DFI to act as a provider, enabler and catalyst of infrastructure financing. Subsequently, the National Bank for Financing Infrastructure and Development (NBFID) Bill, 2021 was passed.
The pipeline was built using input and collaboration from the relevant line ministries and departments, as well as an assessment of the entire asset base available. The NMP does not include monetization through disinvestment or monetization of non-core assets.
Linkаges:-
The idea of national monetization policy is in accordance with Prime Minister Narendra Modi's strategic divestment strategy, which calls for the government to maintain a presence in only a few key areas while leaving the rest to the private sector.
The asset monetization strategy aims to achieve a variety of goals, including recycling funds for new infrastructure and restarting credit flow in the sector, as well as bringing private sector experience to improve asset operation and maintenance. To carry out such a massive undertaking, the government is relying on its previous experience in sectors such as power and highways.
The bill enabled the creation of a DFI – "NBFID", as a corporate body with authorized share capital of Rs 1 lakh crore. The central government's share in the entity is envisaged to remain above 26% (currently at 100%) and the Central Government envisages to capitalize this DFI with initially Rs 20,000 crore.
Сurrent Sсenаriо:-
The National Monetization Pipeline has been launched by the Indian government (NMP) on Monday.
Over a four-year period, from FY 2022 to FY 2025, the NMP anticipates a total monetization potential of Rs 6 lakh crores through the Central Government's core assets.
The National Monetization Pipeline (NMP), which will run for four years, would unlock value in brownfield assets by involving the private sector and giving rights but not ownership to them.
It intends to increase the value of brownfield assets by involving the private sector, transferring revenue rights rather than ownership of the projects to them, and using the proceeds to build infrastructure across the country.
The NMP was announced in order to establish a clear framework for monetization and to present potential investors with a ready-to-invest asset list.
The Union Budget for 2021-22 identifies the monetization of running public infrastructure assets as a crucial source of long-term infrastructure funding.
Only assets held by central government line ministries and Central Public Sector Enterprises (CPSEs) in the infrastructure sector are currently included.
The government has emphasized that these are brownfield assets that have been "de-risked" from execution hazards and should thus attract private investment.
The remaining forthcoming industries include telecom, mining, aviation, ports, natural gas and petroleum product pipelines, warehouses, and stadiums, with roads, railways, and power assets accounting for roughly 66 percent of the total anticipated value of the assets to be monetized.
In terms of annual phasing by value, 15% of assets with an estimated value of Rs 0.88 lakh crore are expected to be rolled out this fiscal year.
The NMP would run parallel to the Rs 100 billion National Infrastructure Pipeline (NIP), which was announced in December 2019.
The amount to be raised through monetization is projected to be roughly 14% of the Centre's proposed spending of Rs 43 lakh crore under NIP.
NIP will allow for a more forward-thinking approach to infrastructure projects, resulting in more jobs, improved living conditions, and equitable access to infrastructure for all, making growth more inclusive. Economic and social infrastructure projects are included in the NIP.
Other infrastructure-related initiatives include the Scheme of Financial Assistance to States for Capital Expenditure, Industrial Corridors, and so on.
Imрасt:-
Asset monetization should be considered as a paradigm shift in infrastructure operations, augmentation, and maintenance, taking into account the private sector's resource efficiency and ability to flexibly respond to changing global and economic realities.
The estimated amount is equal to 14% of the proposed spending for the Centre under NIP (Rs 43 lakh crore). There are more than 12 line ministries and more than 20 asset classes included in this. Roads, ports, airports, trains, warehousing, gas and product pipelines, electricity generation and transmission, mining, telecom, stadiums, hospitality, and housing are among the sectors covered.
This policy new model will allow ordinary people, as well as financial and strategic investors, to join in this asset class, thereby opening up new investment opportunities.
The asset monetization pipeline shows the political will to privatize which will enthuse investors and also is a critical step towards making India's Infrastructure truly world class.
Capital expenditure creates employment, especially for the poor and unskilled, has a high multiplier effect, enhances the future productive capacity of the economy, and results in a higher rate of economic growth.
Curated by : Meghna. Manoj
6,554 total views