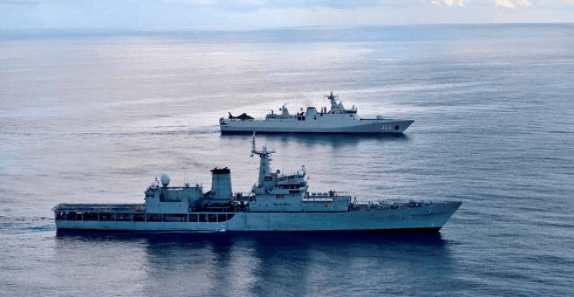 Bасkgrоund:-
After signing a "anti-piracy cooperation pact" in 2006, India's and Germany's navies conducted the first ever joint drills in 2008.
The framework for bilateral relations between Germany and India has been delineated in the Agenda for German-Indian Partnership in the 21st Century , which was adopted by the foreign ministers of the two countries in May 2000.
Germany is working to improve defense and strategic ties with India and gaining greater access to one of the world's largest markets for military equipment.
They have entered a strategic partnership with India and to transfer high-tech weaponry to the Indian armed forces for helping with their modernization. Bernd Mutzelburg,Germany's ambassador to India, has also informed that India will get top-end technology and it will be a win-win situation for both countries in their partnership of equals.
Both countries are now engaged in continuous discussions about commercial marine security and anti-terrorism cooperation.
Linkаges:- 
The Indian Navy is committed to maintaining regional peace, stability, and security, and is always willing to cooperate and engage with partner Navies on Maritime Safety and Security problems.
The exercise between both the navies in the Indian Ocean leg of Indo-Pacific Deployment 2021 enhanced the interoperability and facilitated exchange of best practices between them in the maritime domain.
Germany is India's greatest trading partner in Europe. Textiles, chemical products, metal and leather items, electrical engineering products, and foodstuffs are among India's significant exports to Germany.
Germany will also play a crucial role in the Bilateral Trade and Investment Agreement between India and the EU (BTIA). Furthermore, India might be a popular destination for German companies looking to invest and participate in the Make in India programme.
Сurrent  Sсenаriо:-
On August 26, the Indian Naval Ship Trikand, which is currently deployed in the Gulf of Aden for anti-piracy operations, took part in a Maritime Partnership Exercise with the German Navy.
This included helicopter landings and search and seizure operations, in the Gulf of Aden in Yemen. The Indian Navy's frigate "Trikand" exercised with German frigate "Bayern" in the Gulf of Aden
The drill was carried out with the German Naval Ship FGS Bayern. Several evolutions were carried out, including helicopter cross-deck landings, sea maneuvers, German Navy Helo(Lynx) boarding operations onboard INS Trikand, approaches for replenishment at sea, and steampast, among others.
INS Trikand is deployed in the Gulf of Aden region for anti-piracy patrol.
Imрасt:-
It will strengthen bilateral maritime cooperation in order to achieve a common goal of ensuring a stable, peaceful, and prosperous Indo-Pacific.
● For the Indian Navy it would be a great opportunity to consolidate its bilateral relations with the German Navy.
● India is bolstering its naval presence in the waterways, which are critical for international trade.
This would be a good opportunity for Indian Navies to advance and modernize their weaponry and military equipments and reach International Standards
Strategic Importance
Germany is India's largest trading partner in Europe. Bilateral trade grew and Germany is the 7th largest foreign direct investor in India since April 2000. Germany's total FDI in India from April 2000 until June 2019 amounted to US$ 11.9 billion.
India-German relations are Closely linked to expectations of profitable cooperation in the high technology, IT, and biotechnology sector. Science, research and technology cooperation is the centrepiece of Indo-German relations that will shape future relations between the two countries.
Both governments expressed their commitment to work together on reforming the United Nations system and showed their readiness to take on responsibility as permanent members of a restructured UN Security Council.
Both governments also wanted to coordinate their policies with regard to UN agreements dealing with organized crime and terrorism, as well as work more closely together to counter these threats.
Curated by-Meghna.Manoj
6,625 total views